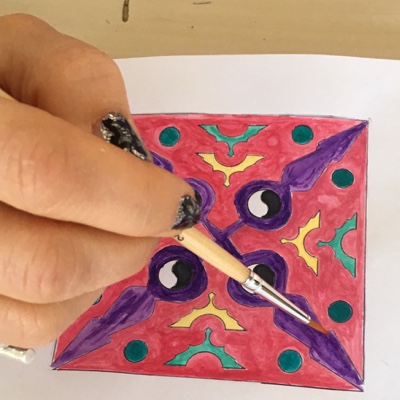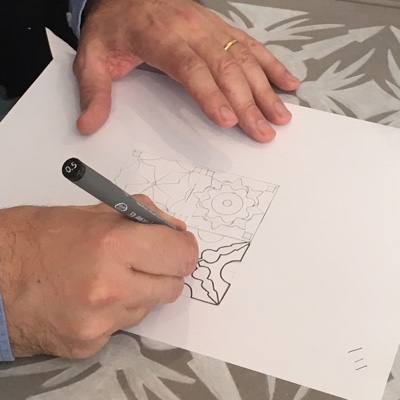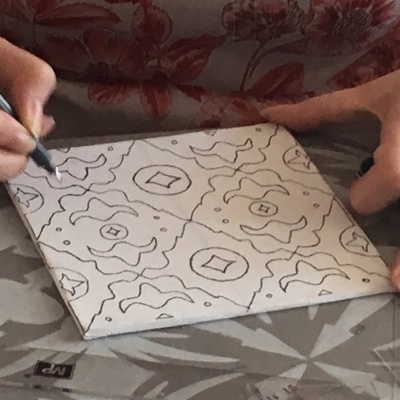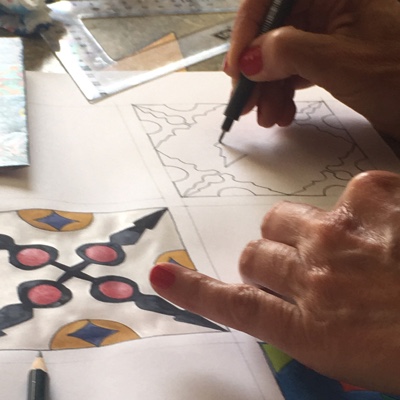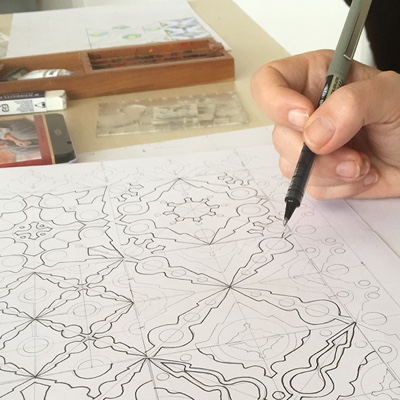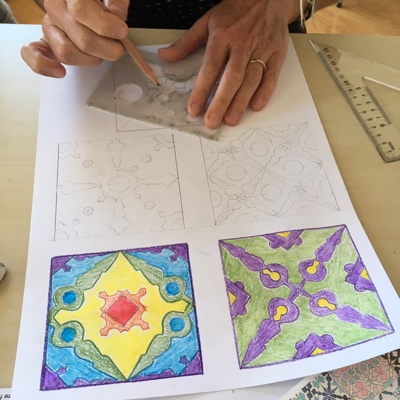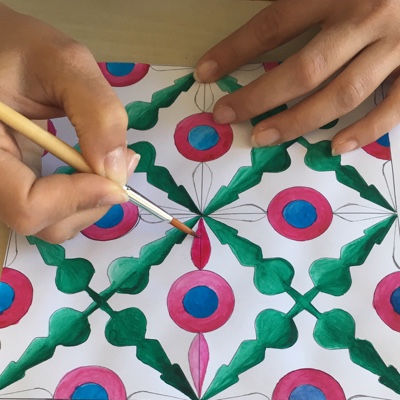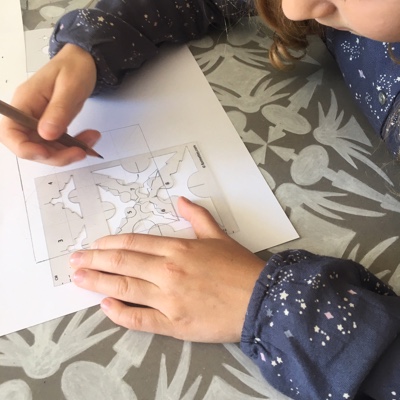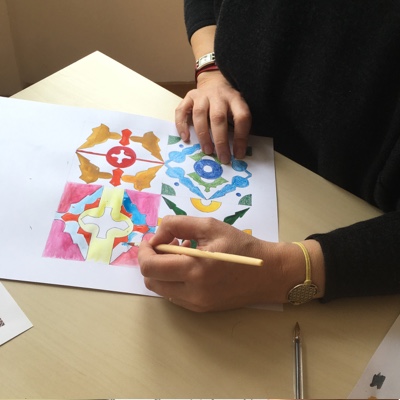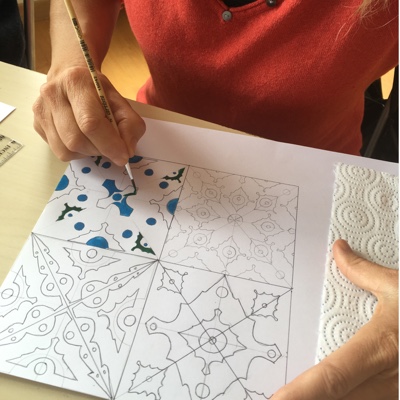 WORKSHOPS
It is in a friendly and family atmosphere that Agathe will welcome you in her workshop in Anjos (center of lisbon).
Regular workshops can accommodate a maximum of ten people. The duration it is between 2h and  2h30, materials are included and provided, as well as tea, coffee, fruit juice and cookies.
Agathe will go along with you in the process of creating your own azulejos motifs with professionalism, respect and sympathy.
She will show you the azulejos (printing) paving methods and will introduce you to the Formettes, a tool which will allow you to invent your own pattern on a paper or canvas support. Once drawn in pencil, you will paint it in watercolor, acrylic paint or watercolor pencils. Agathe, a trained painter, will help you to mix your colors and advise you, if you wish.
When you have finished, your drawing will be scanned and transferred to a 10 cm x 10 cm ceramic tile on site using the sublimation technique. You can also order other objects to personalize (not included in the price of the workshop).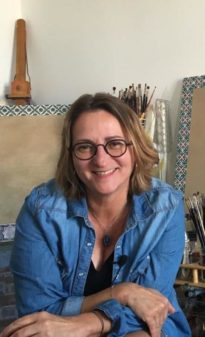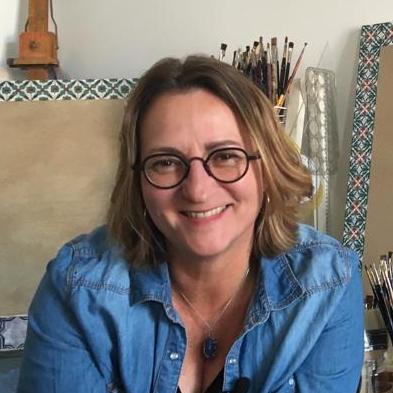 ABOUT ME
Agathe Cornet-Vernet
Artist-painter, Creator of Formettes
In July 2017 wishing to leave Parisian life, Lisbon imposed itself on me as the place of a new stage in my life. I arrived here with the intention of recreating  what had made me happy in Neuilly sur Seine: a free expression painting Studio where children and adults will come to paint without constraints. Along with this activity I continued my own artistic journey and also happily raised my own three daughters.
Inspired by the beauty of the city and being grateful for its welcome, I made it the main subject of my paintings, consisting of views of Lisbon sidelined with a painted frame imitating the azulejos.
Painting these repetitive patterns quickly led me to create a small cut out shape with a cutter in a recovered hard plastic packaging to help me trace them quickly and regularly.
The first Formette was born! I realized that i could play with it endlessly and create almost unlimited combinations of patterns from a single form.
I tested the Formette with children and adults in some experimental workshops and I verify how they developed a great state of concentration and  satisfaction. The success of these workshops have encouraged me to develop the Formette in the form of a Kit.
At the same time as I was doing these experiences, I was pursuing technical research, to find the best materials and to refine all the details of the manufacturing. The first Formettes were made from plexiglass in the Fablab of my neighborhood, but the lazer cut burned them out and they turned out to be too thick to trace the angles.
So it was in France that the new version in thin transparent plastic with markers, produced fifty copies.
During my workshops, which became recurrent, I sold them to participants who wanted to buy them, aware that the presentation, in a transparent plastic pouch with a pencil and instructions, did not enhance my product and did not correspond to my ethical and ecological values.
I also wanted, that the Formette itself, should be made of plastic, being inside a cardboard box and including a sketchbook with some samples, an instruction manual and a pencil.
Thanks to the article published of my work, in the magazine Le Lisboète, I met a sourcing company which helped me produced my kits in China! The minimum production was 500 Kits so meanwhile the question of funding arose.
The solution to find the funds come up, creating a crowdfunding campaign in April 2019, on KisskissBankbank, which had many positive effects. The new version of the Lisbon Collection XL kit is being manufactured (May 2020), the Formettes are now 100% made in Portugal and Ecofriendly